Oh Crate & Barrel. Why must you build me up only to let me down?
Ah, the runner that I was hoping would be perfect for our kitchen (read more about it
here
). I ordered it nearly two months ago. It was on back order. And then on back order some more. I pined for that rug!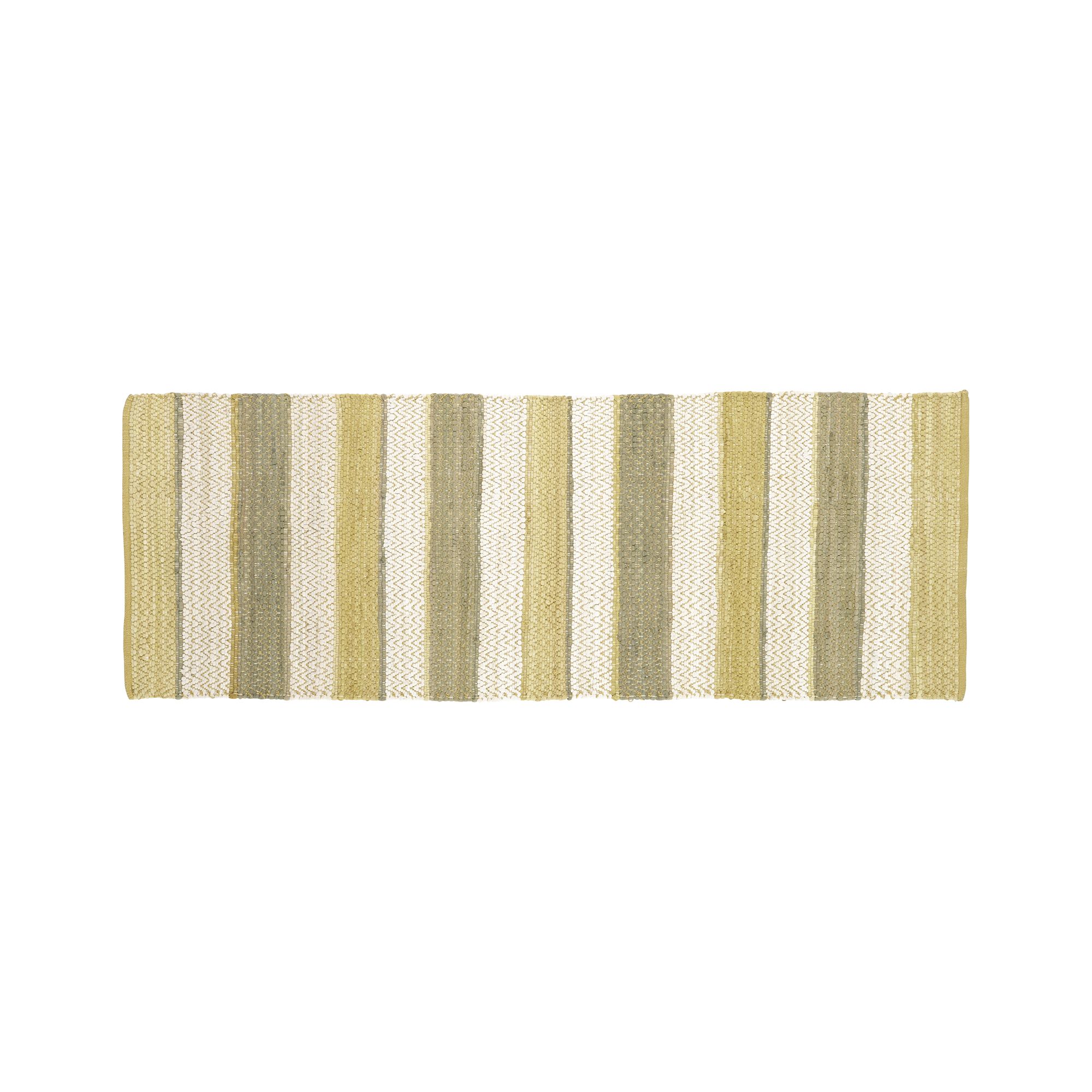 It finally arrived today! I pulled it out of the box and... The yellow was perfect! The gray was... brown??
Whomp, whomp.
I guess you could technically call it gray. Warm gray. Taupey-gray. Brown gray. Baby-poop gray. Not what I'm looking for, people. We've got black cabinets, white trim, white in the linens. Warm gray just won't cut it.
Gimme cool gray tones.
And it was really smelly, like it had been fumigated. Sorry, a baby-poop colored rug that stinks is not going to improve my kitchen, no matter how soft the rug is on my tootsies. The bad news is that I have to keep searching for the right runner (and apparently I have to return the rug via parcel post, grr). The good news is that I'm gonna be getting a stash of cash back from my friends at Crate & Barrel. They can keep the baby poop.
So now it's back to the drawing board. Trying to find a runner that is stain resistant and/or washable and would work with black, white, and golden yellow is tricky. Here's a couple of rugs that I've tracked down that I think might work.
From
ShadesofLight.com
. Pros: It's an indoor/outdoor rug, so it would withstand scrubbing and bleaching. There's something appealing about the idea of dragging your kitchen rug outside and just hosing the dang thing down. The print is fresh without being obtrusive. Cons: It's an indoor/outdoor rug, so it might not be comfy on the toesies. I'm also wondering if the light colors would be more apt to show dirt and grime...?
2.5' x 8' for $119
From
Dash & Albert
. Pros: It's cotton, so although the website recommends hand-washing or professional cleaning, I could probably get away with throwing in the washing machine on delicate. I love the yellow and it looks like it'd go perfectly. High on country charm. Cons: It might be *too* yellow. I don't want to be punched in the face with color every time I walk into the kitchen.
2.5' x 8' for $85 or 2.5' x 12' for $124.
Fallon Honeycomb by Jill Rosenwald from
BA Stores
. Pros: I lurrrrve the honeycomb pattern. It's so much fun, modern but still sweet (ha!), and how cute for a kitchen, right? The yellow looks right on the money. Did I say that I lurrrrve this one? Cons: It's wool, so it won't wash easily. The gray is described as "dark taupe"- not promising. And it's more money than I wanted to spend.
2.5' x 8' for $170
It comes in a few other similar color schemes as well:
Dark Goldenrod, Silvered Gray, Parchment
Sunshine Yellow, Sky Gray, Espresso, Parchment
The Andalusia Dhurrie rug from
West Elm
. Pros: Not gonna lie, I think West Elm is pretty hip and I would love to own something that came from them. The rug comes in a nice steel gray or a golden yellow, so I could go either way. The print's not obtrusive- it feels modern but the pattern hints at floral (and I love florals). I think this one is the most likely to look "right" in our kitchen. Cons: Looks like this rug needs to be babied. "Keep out of direct sunlight. Rotate regularly to avoid uneven wear. Blot spills immediately. Professional cleaning recommended." Also, the runner is a full foot shorter than standard size.
In Horizon/Ivory, $149
In Gray/Ivory, $149
So what do you think? Any favorites in that list? Other places I should search?