A few months after we moved into this house, I figured we needed new kitchen linens. After all, most of what we were using were bought for us as wedding gifts, and they were certainly showing their age. We had some that were tan and cream, some that had rust accents, some that had wine accents- altogether our kitchen towels were a motley crew. Kohl's had an awesome sale in December, and I was able to upgrade linens. I went with a happy sunflower yellow.
It coordinates nicely with our Tuscan themed dishes, feels more modern than the wine color I had been using as an accent before, and it looks great with our black kitchen cabinets and black and stainless appliances.
Such a happy color.
One problem- our towels don't match the rug under our sink anymore. In fact, there's a few other issues with the sink rug. We got it to keep the dogs' water and food dishes from sliding around the floor. It works great for that, but the placement means that anyone who dares walk over to the sink when they visit will likely kick the water bowl or worse yet, step in it and get their feet wet. The dog water needs to go to an area of our kitchen with less foot traffic. The other issue is mostly our fault, not the rug's. If I wanted to blame the rug, I'd say that it's too small. In truth, Steve and I drop things on the floor when we cook. Whenever it happens, it's a dream come true for our dogs, who will come running from all ends of the house when they hear one or both of us in the kitchen just to be present for any "oops" that will escape our lips. In and of itself, that's not a big deal. However, it does train our dogs to think that there must be tasty morsels on our kitchen floor, which has led to regular tongue-mopping of the kitchen floor by our doxies. It's so gross! They leave the floor slimy and smelly (not to mention unsanitary). I've been hand-mopping with a solution that includes tea tree oil, and the smell is really off-putting to the dogs, so that stops the lick-fest for a while. But about a week after I mop, the dogs are right back at the licking again. And I'm tired of hand-mopping my kitchen on a weekly basis.
Dog-licking real estate.
So we decided it was time to get a kitchen rug. We wanted something that would pick up the yellow in the towels without being obnoxiously loud, a runner shape so that it could work next to the stove and next to the sink, and most importantly, it had to be easy to clean. With the frequency that bacon is cooked in this house, machine washing is a necessity.
I browsed and browsed and couldn't find anything that would fit the bill. Until the Crate and Barrel catalog came last month.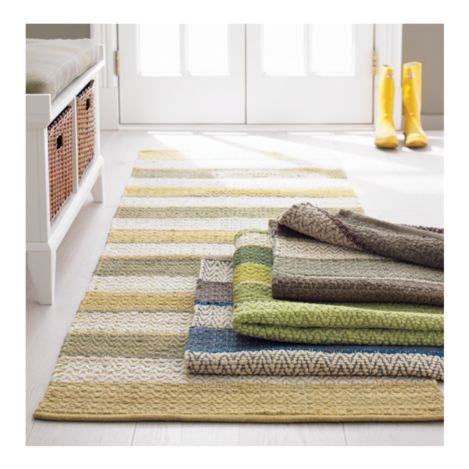 I love Crate and Barrel catalogs.
I wondered how true to life those colors were, and if it was machine washable. So I moseyed over to C&B's website.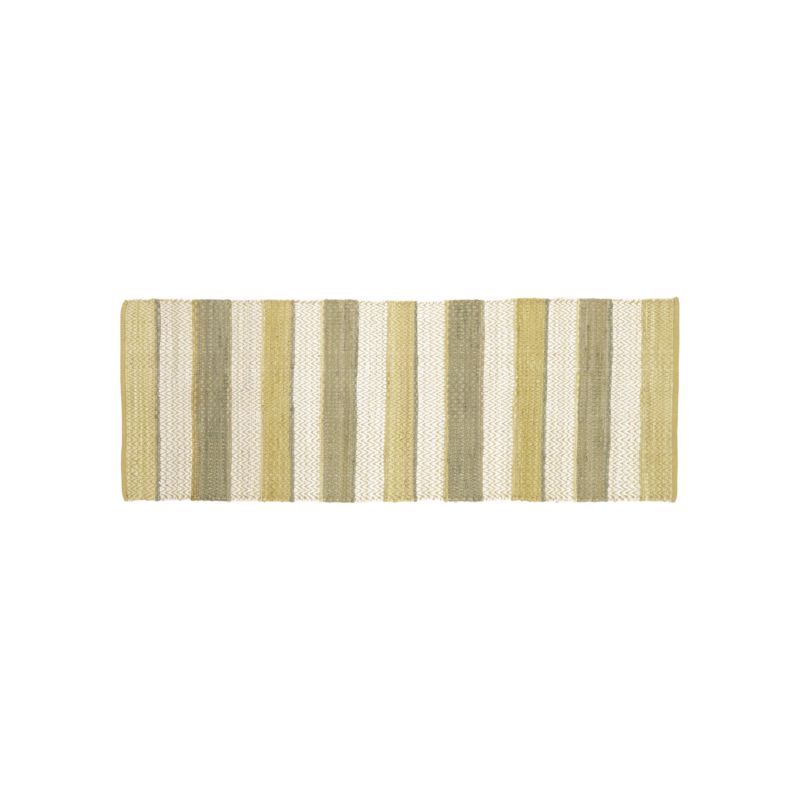 There it was, the
Harper rug in Maize
. The dimensions were perfect, and it was machine washable. What about the colors, though? I loved the pattern, but the yellow looked kind of washed-out to me. Time-worn more than vibrant. Sometimes you can find out more about the colors if people have reviewed it, and I was in luck: 4 reviewers gave it 5 stars each. Wow! I was impressed. AND I was in luck with the colors. Two separate reviewers said:
"It is more yellow than what the picture depicts." and "
The sales lady showed me this one which I thought from the catalog was green, but it is not. It is gold tone and grey." Unfortunately, the Crate and Barrel closest to my house is about an hour's drive, and they didn't have the runner in stock any more, so I crossed my fingers and bought it online, sight unseen. I can always return it if it's not quite right!
Once I placed my order, I got a message that the rug was on back-order until early July. Bummer dude! I figured I'd just exercise my patience. It's really hard for me, but I have to admit that it's fun waiting for a package to arrive.
As July has been drawing nearer, I have been getting more and more antsy for that rug! You can imagine my excitement when I saw an email from Crate and Barrel pop up in my inbox today. I expected it was a notice that the rug was back in stock and my order would be shipped shortly. No dice! The back-order has been pushed back to late July. Ugh. I have to be patient for another month! You better believe there will be all kinds of pictures and exclamation points in a post about that rug's arrival.