...Wait until you spot a great deal online and try again.
After the bummer that was our
Crate & Barrel kitchen rug fail
, I have been gun-shy about trying to find another rug that'd fit our needs in the kitchen. I have done a ton of browsing, but no buying. Until now.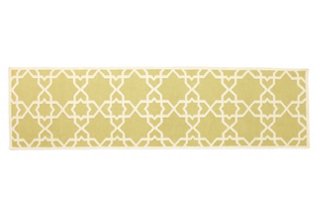 I pulled the trigger on a very pretty geometric rug from
One Kings Lane
. It's a little more than I wanted to spend (I was aiming for $100 or less), but it's also the perfect length (most runners we found were about 8' long, this one's 10), and I love the pattern, and it was half off (See that "You're saving $141.00"???).
I am crossing my fingers that the color will match what's represented on the website, and not compete with what's already going on in the kitchen. I am hoping it'll withstand high traffic and the occasional drip or splatter (
John and Sherry
have a larger version of this rug in their living room and they have a toddler, so I should be OK, right?). And I hope it's soft on the toesies.
Whaddaya think? Will it work?