Yes, that project is currently "in progress." Really,
really
slow progress. After a third coat of paint, everything just sat and cured for a little over a week. Today I finally got back to business. Not because I want to keep working on this project, but because I want to finish and never have to work on it again! I felt the same way when we painted our kitchen cabinets, too, but conveniently forgot about my exasperation until I cleaned the same white paint out of the same paintbrush for what seemed the millionth time.
Oh, woe is me, right? Nah, I'm over it now and moving on.
So. After the third coat of paint got me allllmost the coverage I wanted (but still that chalky texture) I realized my error and switched to semi-gloss. It didn't seem like the Floetrol was helping anyway. One more coat of semi-gloss and everything looked great. I did some touch-ups in spots where the paint had pulled away from the back splash when I removed the tape.
Oops.
Then it was on to sealing. I still had a mostly-full gallon of water-based poly from when we painted our kitchen cabinets, so I just used that. Thankfully, poly is clear, so it's forgiving *and* it requires fewer coats to do its job properly (lazy painting is my favorite kind of painting).
So white!
I am waiting for the poly to dry and then it's time for knobs... and then the big reveal! I almost opted to go the fancy route with the pulls.
Anthro
has some gorgeous ones for $8.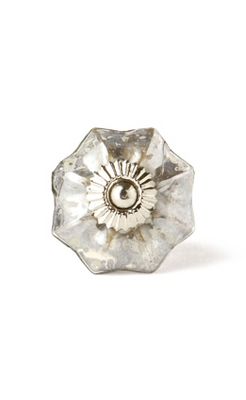 But mercury glass would be less durable and would be harder to work with if I want to change up the look in there again (God forbid). So I think we're going to go with economy and flexibility and get some nice satin nickel knobs. The rest of our accessories in there are pretty much all satin nickel with spherical accent points anyway, so I think these guys from
Lowe's
should do us just fine.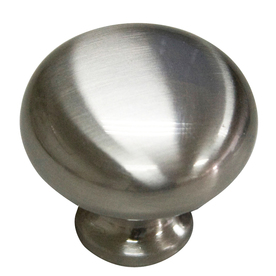 Can't complain for less than $20 to outfit the bathroom.
Cross your fingers that I'll have a reveal post for you before next week!